Dear Atlanta, you have got five new Biscuit Belly Franchise outlets in Georgia to satisfy your plan for power breakfast and delightful brunches!! Known for its uncomplicated breakfast menu, artisan coffee, and handcraft drinks,  Biscuit Belly is making a major foray into the Peach State in Georgia, Atlanta.
There will be five new franchise locations of Biscuit Belly, the fast-casual breakfast and brunch restaurant, the first of which will open in March 2022 at 3330 Cobb Parkway NW in Acworth. Marietta, Woodstock, Newnan, and Columbus are all expected to get their Biscuit Belly locations next year.
Fresh Development One LLC's Missy Moon and Robert Estapa will run the Georgia sites. The multi-unit franchisees and partners have a combined experience of more than two decades in the foodservice sector. Newk's Eatery, Quiznos, and Five Guys were among the ideas they previously run as franchises.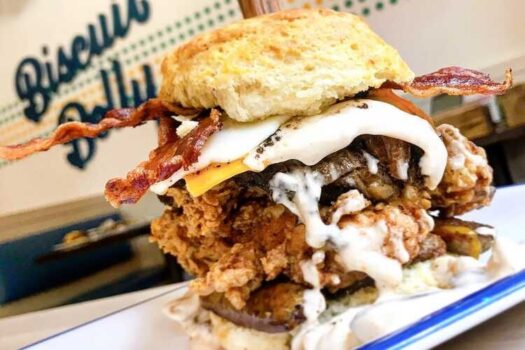 "This investment was a no-brainer for me after my initial meeting with the co-founders of Biscuit Belly. After witnessing how well-organized and committed they are to delivering high-quality food and service to communities," Moon remarked. "Being in the industry for over two decades, I am confident in what Biscuit Belly has to offer franchise owners and visitors alike. I believe we will have tremendous success in Georgia."
2019 born Biscuit Belly packs nothing boring. They have upped the game in traditional breakfast to the wind in favor of delightful culinary innovation food lovers can't ignore. The brand claims to have revolutionized the brunch game by a high-demand fast-casual approach and a menu stacked with chef-driven creations and thirst-inducing concoctions.  Breakfast sandwiches, biscuits and gravy, and breakfast drinks are all on the menu. Not only nonvegetarians but vegetarians also choose from sandwiches like the "Edgy Veggie" biscuit sandwich, which is prepared with fried green tomatoes and mushroom sauce and cheese and an egg.
In a statement, Biscuit Belly co-founder Chad Coulter said, "We are thrilled about the development of this idea and look forward to working with this group of investors who have significant expertise in the restaurant business."
Currently, there are three Louisville, Kentucky, sites of the brand, and one in Evansville, Indiana. The Nashville area will get an additional five franchised locations from them. If you are keen to explore franchise business opportunities with Biscuit Belly, here's your chance!